Book your silver honeymoon in Santorini
This mythical Greek island is a particularly well-suited destination for elderly visitors due to its convenient infrastructure, rich cultural heritage, numerous and versatile tourist offerings.. And let's not forget the majestic golden sunsets either! Celebrate your eternal love for each other by planning your silver honeymoon on a romantic Greek island. In this post, we will give you some useful tips on how to make your second honeymoon even more memorable than your first. 
Relax on the colorful beaches in early September
Your silver years are the ideal times to get out and see the world, visiting those magical places you have always dreamed of seeing in person. Looking at those breathtaking images of Santorini's famous volcanic black and red beaches in the travel magazines will surely spark your motivation to get packing. The best months to visit the island are September and October when the crowd already starts to thin but there is still plenty of things to enjoy. Take long, relaxing swims in the azure Aegean Sea as the water keeps its warmth long into the fall season.
Celebrate your silver honeymoon with a Santorini boat trip
Whether you are young or young at heart, cruising the endless shimmering waters at any age is one of the most exciting and enlightening ways to explore your holiday destination. For elderly vacationers, a Santorini boat trip offers a particularly carefree way to discover the island's picturesque sights. You can soak in therapeutic spring waters or walk around an actual yet dormant volcano. Choose a private cruise or share the experience with fellow visitors on a gracious Santorini catamaran. Our suggestion is to book your trip for the afternoon, in this way you can witness the gorgeous Santorini sunset on board.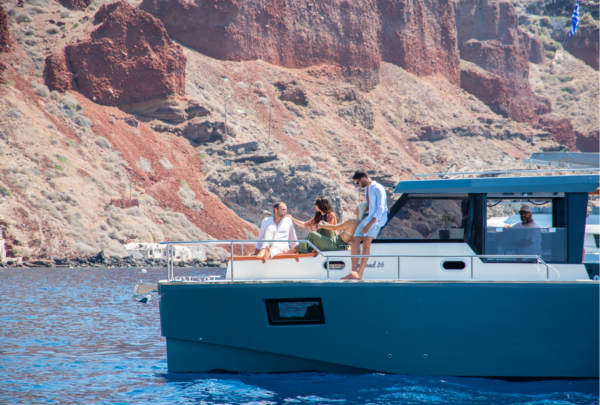 Visit the Ancient Akrotiri, the Greek Pompeii
Have you always dreamed about visiting the places where your favorite Greek mythological tales were set? Your silver honeymoon is the perfect occasion to do so! The Bronze Age settlement of Akrotiri was one of the most important Minoan urban centers and harbors in the Aegea Sea. It is often called the Greek Pompeii as it was completely covered by ash in the 17th BC after the devastating volcanic eruption. Today, you can stroll around shaded from the sun under a bioclimatic roof to see the ruins. The easy and safe walkways will invite you for a time travel during which you can get acquainted with the fascinating lives and habits of this ancient civilisation (book your Ancient Akrotiri tour here)
Stroll around the romantic, whitewashed villages
Greece, in general, is an absolutely safe destination for tourists. You can walk around hand in hand even after sunset without a single care in the world. We recommend you to book your silver honeymoon either for late spring or after August as there are fewer tourists in these periods. The Greek spring comes with the intoxicating smell of the blooming flowers and many spectacular festivities such as the famous Orthodox Easter celebration. In September and October, you can have the island all for yourself.