Explore the best seafood in Santorini 
What could be more delightful than sitting at a panoramic seaside tavern, soaking up the sun and savoring the best seafood in Santorini? Greek cuisine is guaranteed to please every palette for its exceptional seafood plates made of the freshest produce. Come with us on a journey to explore the best marine dishes the island has to offer! 
Taramosalata 
The name of this dish must sound completely foreign to most visitors who come to Santorini. This beautifully pink – sometimes white or yellowish – dip is basically a carp roe spread. It also contains mashed potato, garlic, and plenty of olive oil.
Sea urchin 
While it may seem strange at first to eat this spiny and seemingly-dangerous tiny marine beast, it is considered a real delicacy in Greece. Just like oysters or sushi, it is eaten raw. Sea urchins are best paired with olive oil, lemon, and some crunchy onions.
Fried squid 
Crispy fried squid – also called calamari – is one of the most classic appetizers in the country, consisting of lightly battered rings of squid that are fried to perfection and served with savory tartar sauce.
Grilled or sundried octopus 
Tender, lightly seasoned with oregano, and slightly charred, the grilled octopus will tantalize your tastebuds. The strings of octopus drying under the sun in the fishing ports make an excellent photo subject, let alone a delicious lunch or dinner!
Shrimp saganaki 
In Greek cuisine, saganaki refers to a variety of dishes prepared in a small frying pan. The classic version includes only cheese, however, the real magic happens when the chef combines plump shrimp with a garlicky tomato sauce and finishes it off with feta cheese and ouzo.
Steamed mussels 
Cooked in a flavorful broth of Assyrtiko wine, garlic, spring onion, and dill, steamed mussels are a real treat you must try when visiting our island. A common dish at every Greek tavern, a plate of steamed mussels brings joy to everyone's face when it arrives at the table.
Grilled or fried jumbo prawns
Healthy and delicious, jumbo prawns are summer's simple pleasures. How to eat them? Twist off the head, then suck all the meat and juices out of it. Then either eat the prawn whole, shell and all, or peel the shell off with your fingers.
King crab leg 
The classic Alaskan king crab legs make a perfect dish for special occasions such as birthdays, family gatherings, anniversaries, or engagement dinners. Dipped in lots of melted butter and sprinkled with a bit of lemon juice, the crab legs taste divine!
Lobster spaghetti
Who does not love lobsters? This indulgent pasta dish is made up of simple flavors. The luxurious lobster spaghetti brings together garlic, volcanic local cherry tomatoes, parsley, and a glug of olive oil.
Sea urchin spaghetti 
Sea urchin spaghetti is as emblematic of a Greek summer as a dip in the aquamarine Aegean Sea. The prickly exterior of this marine beast hides a delicious meat which makes a perfect companion to the wholesome pasta dish.
Seafood risotto
This creamy delicacy is the simple combination of mussels, squids, prawns, chili peppers and saffron, the yellow spice that Greece is so famous for. In order to give it an extra touch, many local chefs add Assyrtiko wine to the dish as well.
Black taglioni with shellfish 
The briny squid ink gives this plate a unique color while the shellfish makes sure that you will remember the dish even weeks after your Santorini vacation. Dig in all the deliciousness the sea offers you.
Seafood linguini 
This traditional Italian pasta dish linguine ai frutti di mare is a real star on the menus of the seafood taverns. Everyone you go along the coastline, it will be offered to you in one form of another. However, we vote for the one in Ammoudi Bay!
Daily fish selection
Santorini is blessed with a wonderfully large selection of fish. The freshly caught produce usually includes gilthead, sea bass, red snapper, red mullet, dusky grouper, scorpion fish, white sea bream, cod fish, tuna, and swordfish. You can either ask the waiter for a recommendation or select your fish by yourself when you are ushered to the restaurant's freezer.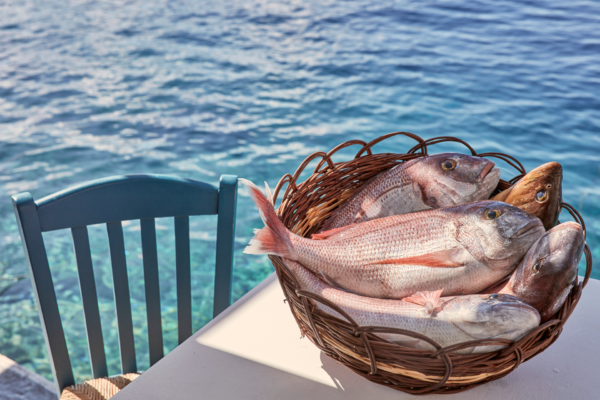 If you have a big appetite and want to savor all the above-mentioned delicacies, head to Ammoudi Bay where Sunset Tavern awaits you with a great selection of mouthwatering seafood dishes!